Volunteer Highlight
"Volunteers aren't paid, not because they are worthless, but because they are priceless".
Jared Cohen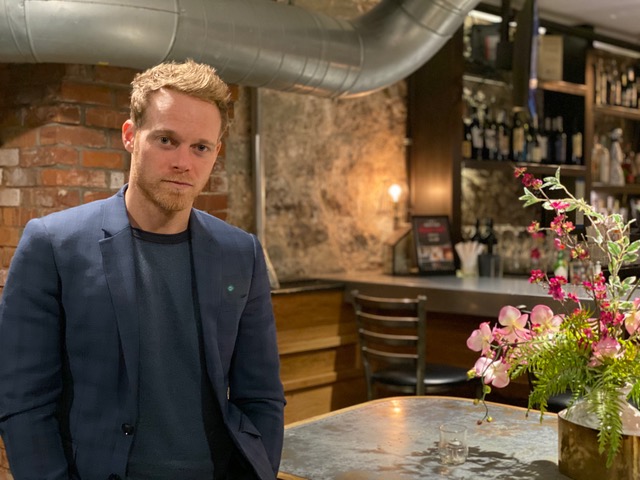 Jared Cohen is the owner of Republic Restaurant in Bloomfield which is next door to Milano Salon where we meet monthly for Cut out Cancer. Jared has generously provided delicious lunch for us every month since we began in 2013. We met up with Jared at his second restaurant, Republic at the Linden in Hartford which opened in 2016.
How did you get started helping Cut out Cancer?
When I was 16 my mother Adrienne was diagnosed with stage 4 breast cancer. While she got through that first diagnosis, 13 years later she had a double mastectomy from a recurrence. She unfortunately died at age 60 in 2011. So I was deeply impacted by cancer personally. When the women who created Cut out Cancer at Milano came next door to talk to me about helping, how could I say no? My mom was proud of any and everything I did and no doubt, she would be smiling a huge smile knowing I was doing what I could to help other women who are dealing with cancer. It's the least I can do. I wish I had more time to help volunteer with the issues that touch my heart. I may not have time, but I get great pleasure from knowing I can help by providing delicious food to the clients at Milano.
What gives you the greatest pleasure of being a restauranteur?
I love getting together with family and friends around great food and drinks. Standing at Republic and looking out and seeing the place buzzing with people enjoying food and drink makes my day…..even if I have worked 13-15 hours!
You are one of the young businesspeople who has been reenergizing Hartford, where do you see things going?
We love being in Hartford and believe there is a need for great places for young people to congregate, eat out and enjoy the many cultural happenings in our city. We are hoping more people from the suburbs will join us on a regular basis and not just on the nights when they come in for a show or concert.
We have taken over the café at the Wadsworth Atheneum, Untitled Bistro, where we provide lunch. We also do all the catering for events at the Atheneum so we have lots of wonderful things happening!
We know the Bloomfield location the best since we enjoy lunch from there every month. What's your favorite meal at Republic in Bloomfield?
I love everything. But if I had to pick one, I would order the French cut chicken breast with the Parisian gnocchi and the lemon thyme jus. Delicious!
Katie D'Onofrio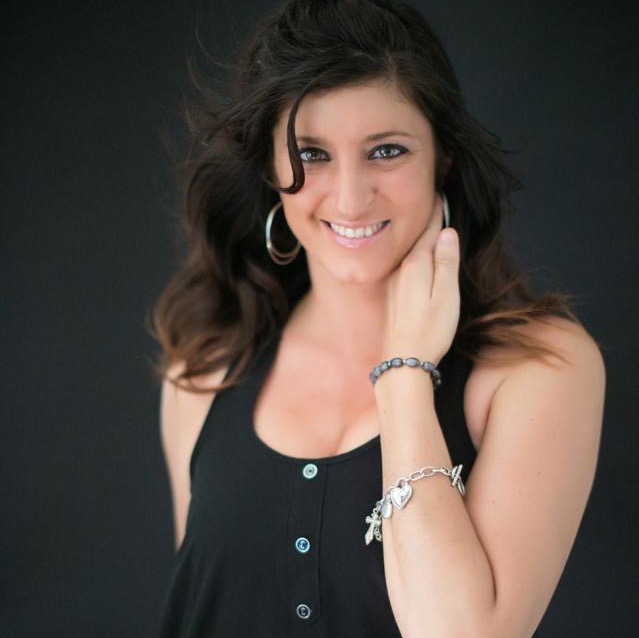 Massage Therapist, Manicure and pedicurist
Owner, Del Soul Spa, Voted "Best Day Spa" in Best of Hartford 2019 and 1stRunner up for "Best Massage"
Katie describes herself as being a "go, go, go" person and her warmth and energy have been going strong since she started volunteering at Cut out Cancer almost 5 years ago. One of our first and most dedicated volunteers, Katie took time out from her full-time job as co-owner of Del Soul Spa in Newington, to share with us why she has made this commitment.
Why did you decide to volunteer at Cut out Cancer?
When I heard about the mission at Cut out Cancer, it spoke to me. My grandmother battled breast cancer and died of melanoma years later. My mom has been dealing with skin cancer and is constantly getting it removed. It seems like everyone knows someone who has had to deal with cancer. This struck me as a perfect way to do what I love- I love people, I love finding out their stories and I love being able to help them feel a little better.
At Cut out Cancer, I hope everyone will feel that they are part of a family, that they will feel that sense of a supportive community. I have tried to create the same warm and welcoming atmosphere at my spa. We converted an old house in Newington and we want people to feel at home.
Can you share an example where you felt you made a difference?
I mostly do pedicures at Cut out Cancer, but I am also trained as a massage therapist. I once was helping a client who had stage 4 lung cancer. The client told me that the message had really helped her pain management and that I had changed her life. She told me that a "guardian angel" would be watching over me for the good that I had done in helping her cope with her pain. I love that feeling that I could actually make a difference in her life.
Tell us about your spa. You are so young to have your own business!
Two years ago my cousin and I opened our spa in Newington and we now have 6 staff and offer full spa services including, skin care, massage, waxing, nail care. And we are open 7 days a week!
What we are most excited about is that we were voted the Best of Hartford in 2019 in the category "Best Day Spa", and 1st runner up for "Best Massage"!
We are thrilled to be recognized for what we value- giving every client a personal and welcome experience.
You have a lot going on in your life now.
Yes! I am getting married this summer to my fiancé Greg whom I have dated and lived with for almost the last 4 yrs and becoming a family with his daughter, Ava. We are going to get married at the place where I have dreamed of having my wedding since I was much younger- at Harkness Memorial Park.
Who else do you live with?
My house is a small farm! We have 6 chickens, 8 baby ducks, 3 dogs (Gizmo, Tasha and Doc), a cat, a bunny and fish. As you can see, I LOVE animals!
Marita Occhineri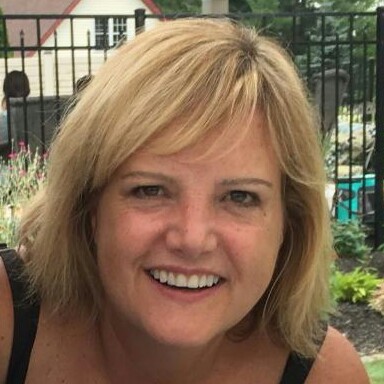 Marita has been with Cut out Cancer from the very beginning. She is a highly valued member of our volunteer service provider team- as a liaison with Milano, and as a seasoned professional with many varied talents and a willingness to jump in and do whatever is needed whenever it's needed. A long time Bloomfield girl we love her for her great sense of humor and her "snappy" attitude.
How did you get involved with Cut out Cancer?
I've been working with Sergio and Valerio on and off for over 20 years. Way back in 1981, Sergio opened his first salon in Bloomfield called "Sheer 2000". I was his first assistant. He was a perfectionist and he taught me to be one too. I left to open my own salon in West Hartford for a while, but eventually returned to Milano and was asked to help with some of the administrative aspects of the salon, including Cut out Cancer.
You are a breast cancer survivor, right?
Little did I expect that after I got involved with Cut out Cancer, that 4 months later, I myself would be diagnosed with breast cancer. I believe that your mind and body are closely intertwined and I decided I was going to beat it and not let this illness run my life. I am a firm believer that your attitude and mind set can have a big impact on conquering your illness. Rather than lie in bed feeling sorry for myself, I forced myself to get out of bed, to try to go to the gym and to try to live as normal a life as possible. I am now a 4 year survivor and I feel great!
What is something that most people don't know about you?
I do a lot of quiet volunteer work. My husband, my son and I hosted a Fresh Air Fund boy from the inner city of New York giving him a chance to live with us for four summers, and experiencing all kinds of new things. I have also helped women who have been victims of domestic violence and collected supplies for women who needed a safe place at Interval House. Working with women all day in my chair, I hear so many stories and have learned so much about them, that I decided I should study them and I got a degree in Women's Studies at Hartford College for Women.
What is your typical day off like?
I cherish my time off. Finally, I can go to the gym, have lunch with friends and then binge watch Criminal Minds on TV. I love to figure out why people are the way they are.
What do you like about being involved with Cut out Cancer?
There is something you feel the minute you walk in….you come down that long hall from the back door and you are a little apprehensive. And then you are embraced by the enthusiasm of the board, they are so welcoming, giving and comforting. True unconditional love with no judgment.
Mary Rogers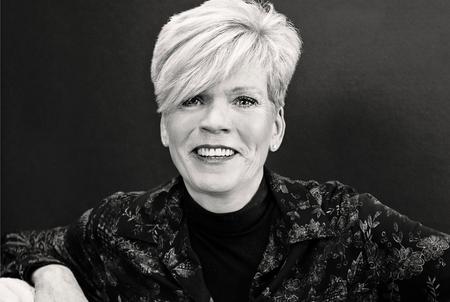 Mary has been a dedicated volunteer hairdresser at Cut out Cancer from the day we opened our doors almost 5 years ago. Hailing from Queens, NY, Mary can be found at Clyde St. Amand Salon in Avon where she brings over 40 years of experience as a hair designer and master colorist. We are grateful to Mary for her commitment to our mission and for bringing her kind and caring disposition to Cut out Cancer.
What motivated you to get involved in Cut out Cancer?
I was inspired by Ronit Shoham, who has been a client of mine for many years. She is so involved in so many ways in helping in the community. She told me about starting Cut out Cancer and I went to see the movie Mondays at Racine and found it so moving and knew I wanted to be part of this initiative. After being a hairdresser for 40 years, this was a new direction for me.
Tell us about a meaningful experience you had while volunteering at Cut out Cancer.
I think every month is a meaningful experience for me. The people I meet are some of the strongest women I have ever met. All of them are so thankful that we are providing the services that we all do. To me it is sharing my gift to make someone feel good and special while they are in my chair. It makes me feel good also.
How do you feel after a day of being a hairdresser at Cut out Cancer?
Sometimes sad, but most times grateful that I am able to do this. It takes me out of my own problems when I listen to these strong women. It gives me hope and strength and puts things in perspective for me.
What is your dream day off?
To be with my grandson. I'm looking forward to spending more time with him this summer at the lake, the beach. Such a joy he is!
What advice would you give to people dealing with cancer?
I have none. I have not traveled the road they have. I can only say, I have seen strength, hope and love in all the women I have met. If one day, life has a different plan for me, I will remember these women and god willing be as brave as them.
What is something you are proud of that not everyone knows about you?
I have 3 children, 1 grandson, 7 brothers and sisters, 9 nieces and nephews, 8 great nieces and nephews and 2 more on the way! I love them all and I am proud to say we all get along, stand by each other through many happy and sad times.
Gerri Sabo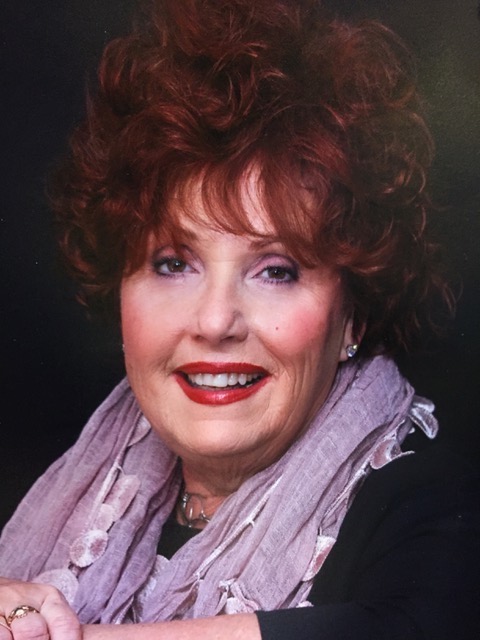 We met up with Gerri, who has been with us as a volunteer from the day we opened our doors in January 2013.
Gerri brings her warmth, her kindness and her compassion to the various spa services she provides every month at Cut out Cancer- facials, manicures and pedicures. Her gentle hands have soothed many faces and feet at Milano's. Beyond her expertise in skin care, her caring personality creates a gift beyond the physical, witnessed by the glow on the faces of those who have benefitted from her services.
We caught up with Gerri away from her chair at Clyde St Amand's Hair Design in Avon and learned a little more about her. Beyond being a skilled esthetician, she is mother to two accomplished daughters and "YaYa" to four young grandchildren.
We are deeply grateful to Gerri for her many hours of volunteer service to Cut out Cancer and her dedication to helping so many clients.
What motivated you to get involved in Cut Out Cancer?

I went to see the movie Mondays at Racine, about the hair salon in Long Island for women dealing with cancer treatment. I understood that this movie inspired the women who are on the Cut Out Cancer board to create a similar spa service in our area. After seeing the movie, I totally wanted to get involved and I waited and waited until someone called to say they wanted me to help. I was so excited!
I now can never envision giving this up. Cut Out Cancer has become such a meaningful and important place to me. When I walk in the doors, I feel like I'm coming home. It is like one big family and a place where people leave feeling good- both the clients and we the volunteers too.
In my business, we use touch as a way to care for people. I so admire the courage of the women who come into Milano's for treatment. I hope to put them at ease, and hope they will feel some comfort after they leave. I often reflect how Mondays at Milano are both great and bad, and both wonderful and sad. Since we will never rid our world totally of cancer but hopefully we can make a difference by creating a day that helps our clients have even more courage and have more hope.
What is something that many people don't know about you?
My husband serviced in the US Navy for many years deep under the ocean on a submarine. I was selected as the Ombudsman for the command by the Admiral in the navy and also was the onshore wife that took care of many of the wives who needed practical and emotional help when our husbands were underwater and out of communication for months at a time. Sometimes, it was just a shoulder to cry on, sometimes it was helping them to figure out financial or family problems. Meanwhile, I was a mom of two young girls all on my own too.
What is your dream day off?
I love peace and quiet. Being alone, having no agenda, no one telling me what to do.
I also have loved traveling to Tuscany with the "Tuscan Mamas" where I had the opportunity to cook, to learn to cook better and to see where all the great ingredients come from. My family came from Sicily, so I enjoyed learning about other styles of Italian cooking.
What advice do you give to people dealing with cancer?
You can sit at home and cry or get mad but in the end the best strategy is to try to move on and try to feel positive. If you believe you will feel better hopefully you will!
Sergio & Valerio Gurciullo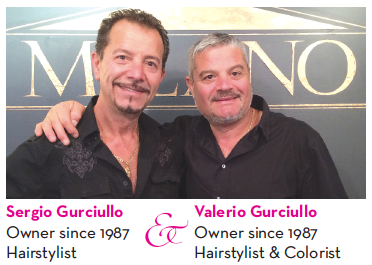 This month we present our most cherished volunteers, brothers and joint owners of Milano Salon and Spa, Sergio and Valerio. Sergio and Valerio's willingness to open up their salon in January 2013 to Cut out Cancer has made our mission a success. As the most generous partners and participants, both Sergio and Valerio have embraced this project with love, selflessness and kindness. Each month one or both of them are found styling hair, taking the time to listen, and giving a hug. We are all forever indebted to them for their generosity.
In a recent interview, we got a chance to know a little more about the men who have made it all happen!
What motivated you to get involved in Cut out Cancer?
Valerio: I love people. I love helping lift up the spirits of the clients who come in to the salon and helping them feel a little better. We have been touched by cancer personally in our family so I can say in a small way, I know what they are going through.
Sergio: It feels good to do a good deed especially when talking about cancer, since my family can say we know the impact cancer can have.
How did you get started being a hairdresser?
Sergio and Valerio: Our dad had a hair salon in Sicily. It wasn't just a hair salon, but more like a community club where we knew all the customers. As boys, we would hang out there and when we were just old enough- 11 and 13, our dad would let us help. We grew up faster there in Italy. We would stand on a stool, lather up men's faces and with a straight edged razor, we would give shaves. Imagine that! We immigrated to Middletown CT when we were young teens. Unfortunately, our dad couldn't get work as a hairdresser in the US so he started in factory work . We eventually carried on the family tradition and opened our salon together in Bloomfield 30 years ago.
What is your dream day off?
Sergio: Sipping a drink under a palm tree in the Caribbean. Some beautiful women around might be nice too.
Valerio: A quiet day hanging at the beach. Maybe in Newport. A glass of wine in my hand, the sun shining….what could be bad?
What has touched you from your involvement with Cut out Cancer?
Valerio: I would say I've learned even more to appreciate what I have and not to take anything for granted. I have been so moved by the strength of the clients we work with and by their gratefulness for this project. One of the unique aspects of our work is that we are allowed to touch our clients. So when I am working with a client and hearing about the challenges of their cancer, I can give them a hug and a kiss when I say goodbye. It feels good to have this bond- to be a part of the cancer journey with them. And to hopefully ease some of their pain.
Sergio: I have been touched by so many clients. One in particular stands out. I cut and styled her hair for a night out with her husband, which turned out to be one of her last nights alive. I was deeply moved and felt so great that I could do a little something to make her smile at this time in her life and to know how grateful her husband was too.
Yvette Law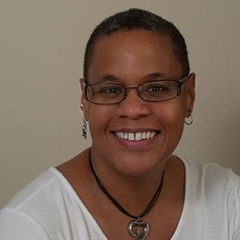 "When we give cheerfully and accept gratefully, everyone is blessed." Maya Angelou
We could not do what we do, or do it so well, without dedicated individual volunteers and businesses who donate their time, their services and their professional skills to make each Mondays at Milano such a special and supportive experience. We can never say thank you enough. We hope you will enjoy getting to know the people who make our project work so well as we feature our volunteers here.
Q:What motivated you to get involved in Cut out Cancer?
I have many family members who have had cancer and I have gone through the journey of their illness with them. Watching them go through this is close to my heart. When I happened to hear about Cut out Cancer, I was immediately drawn to this opportunity to give back and help make the journey a little less painful.
Q:Tell me about a meaningful/memorable experience during your volunteering at COC
I gave a client a massage, and she was quiet throughout the massage. At the end, she gave me a huge hug and said," You have made me smile again."
Q:What is something you are proud of that few people know about you?
I was the star of a 2 woman play called, Marla's Devotion and I starred as Marla!
Q:How do you feel after a day of giving massages at Cut out Cancer ?
I am honored and blessed to have a career that is something that I love to do. I feel giving massage is sacred work. If I can make a difference in someone's life with the work I do with my hands, then I am completely gratified. I have been so moved by what is happening at the incredibly upbeat Monday sessions at Milano Salon. It is just amazing. Observing women who are laughing, supporting each other and benefiting from being in a safe and trusting space is so gratifying. I love watching women who literally are transformed while there. This isn't a doctor's visit. It is a chance to feel normal and pampered.
You can find Yvette at:
All About Balance
(860) 212-7709?
allaboutbalance@live.com